A3 Scotland 2022
Tuesday 26th April 2022, 9:00am to Wednesday 27th April 2022, 6:00pm
John McIntyre Conference Centre, Edinburgh First, 18 Holyrood Park Road, Edinburgh EH16 5AY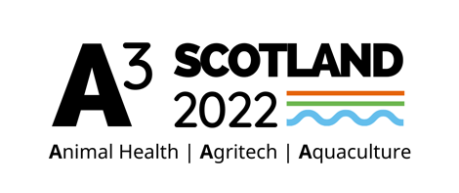 Showcasing Scotlandís contribution to the development of the Animal Health, Agritech and Aquaculture (AAA) sectors and explore its role in the future growth of these emerging sectors in transition to net zero.
Investment, innovation and collaboration across these sectors is vital in achieving this ambitious vision and A3 Scotland will seek to encourage new strategic partnerships and welcome international delegates.
The AAA sector is of key importance for Scotland and indeed Scotland is already a major contributor in the animal science sector globally.
The optimisation of animal health, promotion of sustainable food security and stimulation of economic growth, both locally and internationally, make a major contribution towards the ambition to achieve net zero carbon emissions from UK agriculture by 2040, underlying the urgent need to work collaboratively to address the challenges of climate change.

Industry, investors, scientists and government officials from all over the world will gather in Edinburgh, Scotland's dynamic and stunning capital city, seeking strategic partnerships and to discover the latest in R&D.
The packed 2-day programme will feature influential and expert speakers across each of the sectors, with a variety of informative sessions, panel discussions and networking opportunities.
The programme is enhanced further with optional pre and post conference tours showcasing some of the world-class research facilities and expertise located in Central and Highlands Scotland.

The conference will include sessions on each of these themes, across each of the the three sub sectors, and presented by leading industry speakers.
There will also be many opportunities for networking, a grand Gala Dinner and optional pre and post conference tours of world-renowned science and research facilities in Midlothian, to the south of Edinburgh, and in the Scottish Highlands.
This inaugural not-for-profit conference is supported by the University of Edinburgh Easter Bush Campus and Life Sciences Scotland.