Infrared Thermography in the Study of Animal Emotions, Physiology and Health
Thursday 6th September 2018, 8:30am to 4:00pm
The Roslin Institute, Easter Bush Campus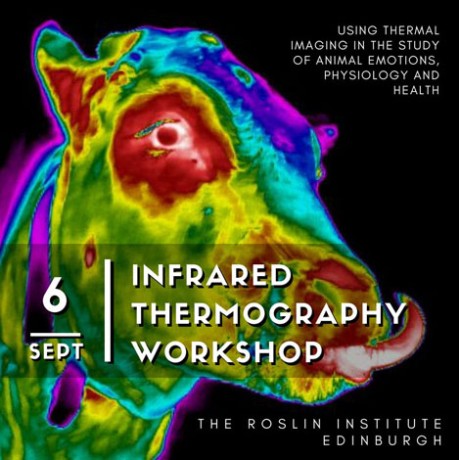 This one day event at The Roslin Institute is a varied programme and will consist of talks, discussions plus practical on-farm demonstrations with the opportunity to use a range of thermal cameras under expert supervision.

The talks and discussions will cover topics such as planning for accurate thermal imaging and data extraction; undertanding of the various and simultaneous physiological processes affecting the results; use of thermography in various fields of animal welfare science; and prospects for developing welfare assessment methods for the future, with selected success stories from parallel fields of research serving as examples of how to plan pathways to practical applications.
Speakers are Malcolm Mitchell (SRUC), Helena Telkanranta (University of Bristol), Dorothy McKeegan (University of Glasgow), Mark Hansen (University of West of England), Tomas Norton (KU Leuven, Belgium), Mari Vainionpaa (Veterinary Clinic Askel, Finland).

The day will also include practical on-farm demonstrations with cattle and pigs. As an animal health precaution regarding the practical session on the farm, please be advised that no clothing worn on any other farm can be worn there, and anyone entering the pig unit has to have been out of contact with pigs for a least 72 hours.

The practical session will provide participants with the rare opportunity to get familiar with a range of different thermal cameras under expert supervision.

Workshops are restricted to members of the network, if you are not yet a member of the network it is free to join and the details are available here:
http://awrn.co.uk/membership