International Symposium on Avian Endocrinology 2022
Sunday 24th July 2022, 11:00am to Thursday 28th July 2022, 3:30pm
John McIntyre Conference Centre, Edinburgh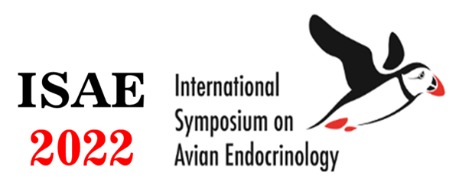 With a combination of plenary lectures, symposia, and poster sessions, ISAE2022 is the ideal venue to meet other scientists and exchange information regarding everything "bird hormone".
Nurturing the next generation of avian endocrinologists is of utmost importance and as such the conference open with an afternoon especially dedicated to early career researchers.
Simone Meddle, Professor of Behavioural Neuroendocrinology at the University of Edinburgh's Roslin Institute, will be participating in this conference and speaking in the session 'Progress and perspectives of GnIH research', chaired by: Takayoshi Ubuka. International Cancer Laboratory, Gan Medical Service Co, Japan.
It has been believed that gonadotropin-releasing hormone (GnRH) is the only hypothalamic neuropeptide that regulates the hypothalamic-pituitary-gonadal (HPG) axis in vertebrates since its discovery at the beginning of 1970s. However, a new key hypothalamic neuropeptide, i.e. gonadotropin-inhibitory hormone (GnIH) has been found to play key roles in the control of reproduction.
In 2000, GnIH was discovered in the quail hypothalamus. Following intensive research showed that GnIH inhibits reproductive physiology and behaviour in birds. Thus, we now know that GnRH is not the sole hypothalamic neuropeptide controlling vertebrate reproduction. The aim of this symposium is to review the progress of GnIH research and discuss the future of GnIH research.
The ISAE 2022 website will provide all the necessary information and updates on the conference venue, registration, scientific program and schedule, abstract submission, accommodation, social activities, and travel.
Prospective participants also have the option to register their email to receive reminders of important dates and deadlines, updates and additional information as they become available.