Cytomos secures £1.6m funding
Wednesday 29th June 2022, 4:00pm
Cytomos has secured £1.6m funding to progress the development and qualification of its novel cell analysis platform, Cytomos Dielectric Spectroscopy (CDS).
The fundraising round was led by existing investor Archangels with participation from Scottish Enterprise and Old College Capital, The University of Edinburgh's in-house venture investment fund.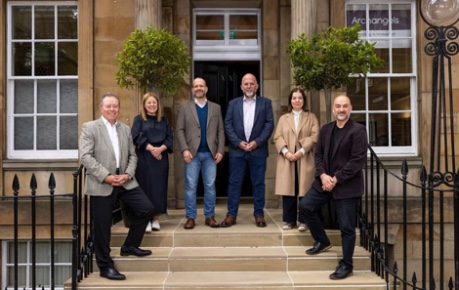 Cytomos has developed its technology platform to address the unmet needs of the biopharma industry, providing a low-cost, portable and scalable alternative.
The company's proprietary new approach to analysing cells can be used in drug development, bioprocessing, vaccine production and for cell and gene therapy manufacturing.
Based at Roslin Innovation Centre, Cytomos will also use the seed investment for hiring and building its next-generation sensor.

Pictured L to R: Alan Raymond, Sarah Hardy, Stewart White, Mark Collingbourne, Nicola Broughton and Gino Miele
CDS has the potential to help companies react in real time, enabling prioritization and "fail fast" to minimise sunk costs, both in terms of time and operating expense as well as qualitative aspects.
CDS aims to enable non-specialist users to perform quantitative and qualitative cytometry without requirement for typical cell labelling reagents, delivering results faster, simplifying the logistics of testing and reducing costs.Improved cell analysis can help to unlock multiple markets with very high growth potential, including drug development bioprocessing, vaccine production and cell & gene therapy manufacture.
Analysts estimate the value of the global market for single-cell analysis is expected to reach $6.3 billion by 2026.
Founded in 1992, Archangels is the world's longest continuously operating business angel syndicate investing in early-stage Scottish life sciences and technology companies. The syndicate was an early investor in Cytomos and has supported the team through early-stage development of the business.
Cytomos has made significant progress over the last year in developing its technology platform and has successfully tested its protype devices in the field, enabling understanding of performance criteria and areas of development focus required to meet user needs, secured the key patent for CDS in the US and appointed an experienced Board and Scientific Advisory Board. The funding will allow the company to grow its team, deliver its next generation sensor and analytics for real time monitoring and analysis of cells and expand its customer engagement.