Sharing Our Science
Tuesday 27th June 2017, 10:00am
The Easter Bush Campus has been involved in various public engagement and outreach activities this year.

Dr Nicola Stock, Public Engagement Officer at The Roslin Institute, gives us a round up the public engagement and outreach activities which staff and students have been involved in from the beginning of the year with more events to follow.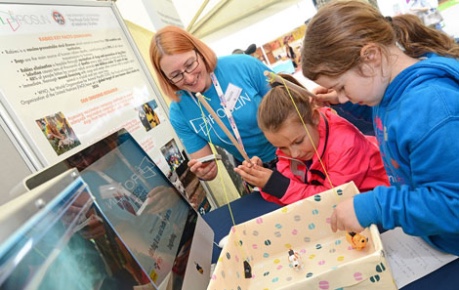 Ahead of the opening of the Easter Bush Science Outreach Centre (EBSOC), located on the ground floor of Roslin Innovation Centre in the autumn, the outreach team carried out a series of teacher consultation sessions in January and February to determine the types of activities local high schools would like to see at the new facility.
There was a demand for pupils to get hands-on, research lab experiences and the opportunity to meet real scientists. The first set of workshops will be tested and developed over the summer.
Alice Roberts, clinical anatomist, author, broadcaster and Professor of Public Engagement with Science at the University of Birmingham, visited the Institute in February. In addition to giving a thought provoking seminar about why academics should consider engaging with the public, she also joined a smaller group of research staff and students for a lively discussion about public engagement in practice.
In April, as in previous years, Roslin researchers took part in the Edinburgh International Science Festival, contributing content and volunteers for the successful Moments in Time exhibition on the Mound in Edinburgh and taking our Needle Felting with Dolly the Sheep workshop to the Mini Maker Faire at Summerhall, Edinburgh.